Top 4 reasons to work at Building Restoration Inc in Kalamazoo Michigan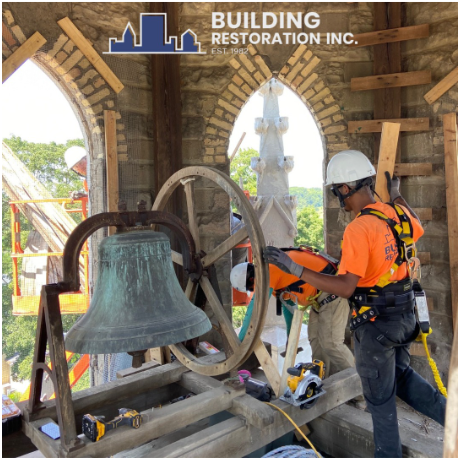 Introduction
Building Restoration Incorporated is a leader in the construction restoration industry, and we are always looking for talented individuals to join our team. If you are looking for a rewarding career, this is the place!
1. Safe Working Environment
A safe working environment is a top priority at Building Restoration Inc in Kalamazoo, Michigan. Everyone who works here understands that safety is everyone's responsibility, and it relies on each person doing their part to maintain a clean, organized environment. With this in mind, we've created some best practices for keeping ourselves and those around us safe while also following all OSHA standards.
2. Career Growth Opportunities
If you're looking for a company that will provide excellent training, support, and growth opportunities, consider working with us. You'll be able to learn new skills and gain experience in a variety of restoration trades such as Masonry Restoration, Concrete Restoration, Building Restoration, Structural Repair, Caulking & Sealants, and Building Cleaning.
We value our employees' opinions and ideas and encourage them to share their knowledge with one another to help facilitate a continuous learning environment. 
Additionally, we have an excellent work-life balance here. We understand the importance of friends, family, and free time for yourself, and we want you to be able to enjoy that time. We know that you can't always work on weekends or late into the night when important things are happening outside of work!
3. Making a Difference in the Community
The community is important to us, and we are a part of it. We are not just a business in Kalamazoo, Michigan; we are a local business with employees that live here and raise their families here. We contribute to the area through our hard work to restore historic buildings. We care about our community and the people who work for us, which shows in everything we do! How we treat each other and conduct ourselves in public places like downtown Kalamazoo is an essential part of BRI.
4. Benefits and Work Culture
Building Restoration offers excellent benefits and a work culture that helps us to attract the best people. 
Benefits include:
No Nights or Weekends

Paid Time Off & Holidays

Health Insurance

Dental Insurance

Vision Insurance

Health Spending Account with Company contribution

Short & Long Term Disability – Company paid

Life Insurance – Company paid

401(k) with Company match

Profit-Sharing

Continued Education
Our people are the heart of our business, and we want to help them grow. We offer opportunities for advancement, competitive compensation, and great benefits. We also believe in a solid work/life balance which is why we do not work nights or weekends and have paid time off and holidays.
Conclusion
At Building Restoration Inc, we offer a variety of benefits to our employees. The most important ones are the safety of our workers and their families, career growth opportunities, making a difference in our community, and sustaining a great work culture. If you think you are the right person to join our team, check out our current employment opportunities or reach out to us today!